Everyone knows that the status quo with respect to housing is "unsustainable". The Prime Minister now seems to recognise the need for fundamental change and the opposition has recently offered to work with the government to find non-partisan solutions.
While many people in the public assume that a key driver of house price growth is migration, recent trends show that even without migration rapid house price inflation can occur.
Because of Covid-19, the government closed the border for international travel early last year. As a result, monthly net migration was close to zero for most of 2020. Nevertheless, over the last year, both rents and housing costs increased by 12% and 20%, respectively.
Migration is only one part of the story. A myriad of factors contribute to housing dynamics in both the short and long-run, but not all of these receive equal attention.
Discussion of the effects of demographic change and an ageing population on our housing markets is limited. Yet, these drivers are also set to contribute to our housing woes over the coming decades, especially if the housing supply does not respond. That is because ageing populations require more homes for the same number of people.
For instance, when the typical group of a hundred people consists of 20 couples, each with two young kids, and ten retired couples, those hundred people fall into thirty households. Thirty homes might be needed. When the hundred instead are 15 couples with two kids each, and 20 retired couples, 35 homes might instead be needed.
In New Zealand, the average household size has fallen from 3.2 in the 1970s to 2.6 in 2020 (like other OECD countries). According to Statistics New Zealand's projections, it could fall even further in the next two decades or less.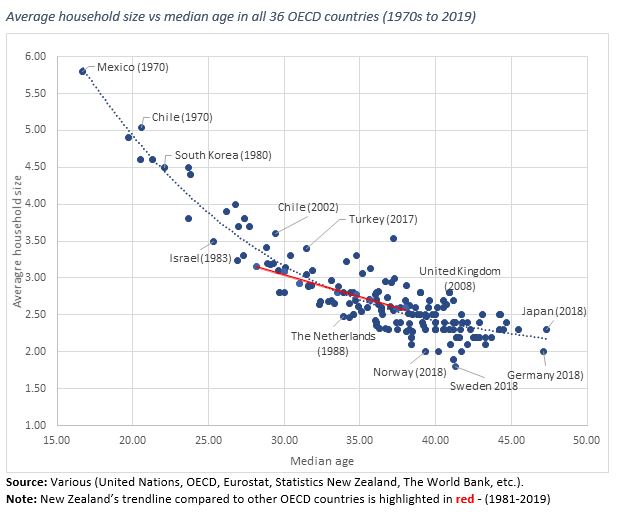 So, are we gearing up to build the additional housing that our changing demographics require?
Policies that target land supply and infrastructure bottlenecks are key. However, the asymmetry of political and economic incentives between councils and the government has created a frustrating gridlock.
Growth and economic expansion in areas bring little revenue to councils but impose upfront infrastructure costs, such as water pipelines. This adds to councils' reluctance to free up land for development.
Restrictions on density further add to housing supply issues.
The housing market is bad enough already, even without considering the effects of demographic change that will only worsen the problem. The government's proposed policy responses must address the root of the problem rather than tinkering around the edges.