2022 marked a turning point in New Zealand's response to the Covid-19 pandemic. The country reopened to international visitors in the middle of the year, and by the year's end, most sectors of the economy got back to something close to business as usual.
The end of Covid restrictions also meant the Initiative returned its focus to more "normal" public policy concerns and to a more normal modus operandi.
We resumed in-person members' meetings; held a very successful annual members' retreat in Queenstown; and traded the Zoom screen for regular face-to-face meetings with politicians and officials, the media, members and other thought leaders.
However, the end of Covid restrictions did not mean an end to the after-effects of the pandemic. Inflation and the cost-of-living crisis, labour shortages, and an unprecedented crime wave all contributed to 2022's postpandemic hangover.
And they added to an already long list of public policy challenges facing the country.
Rebuilding our once world-leading system. Freeing up land for housing development. Addressing the challenges of climate change efficiently. Ensuring rigorous cost-benefit assessments of regulatory reform proposals and government spending decisions. These were the country's most important challenges prior to the pandemic.
None of them has been solved during the Covid years, and several of them, especially educational outcomes and housing affordability, have worsened.
However, the Initiative's research during the year has had a significant impact on how politicians, the business community, and the media discuss many of these issues. And our work has pointed to evidence-based solutions to several of them and to the pursuit of evidence-based solutions for some of them.
High among the list of our successes in 2022 was contributing to the new literacy strategy announced by the Government in August 2022. Successive Initiative reports have highlighted that the Ministry of Education's approach to teaching literacy is unsound and is contributing to appalling – and declining – educational outcomes for Kiwi school leavers.
In May 2022, the Initiative hosted an important literacy symposium with local and international speakers. In July 2022, we published a report detailing low student achievement in a trail of new literacy standards for NCEA. One of the recommendations was that structured literacy be adopted as a pedagogical approach in primary schools. A month later, Associate Minister of Education Jan Tinetti announced a new literacy strategy for schools, of which structured literacy will be a part.
While this is just one example of the Initiative's impact last year, no area of public policy is more important to lifting the living standards of ordinary Kiwis than education. And no educational outcome is more important than achieving high levels of literacy. The change in Government policy is one that the Initiative team can be justifiably proud of.
As detailed in this report, the range of the public policy areas the Initiative has influenced in 2022 is wide. From monetary policy to the emissions trading scheme, and from infrastructure bonds to Pharmac's approach to procuring pharmaceuticals, there is almost no area of public policy immune to the Initiative's scrutiny.
We are proud of our achievements in 2022, and we look forward to adding to the debate in the year ahead.
Media highlights in 2022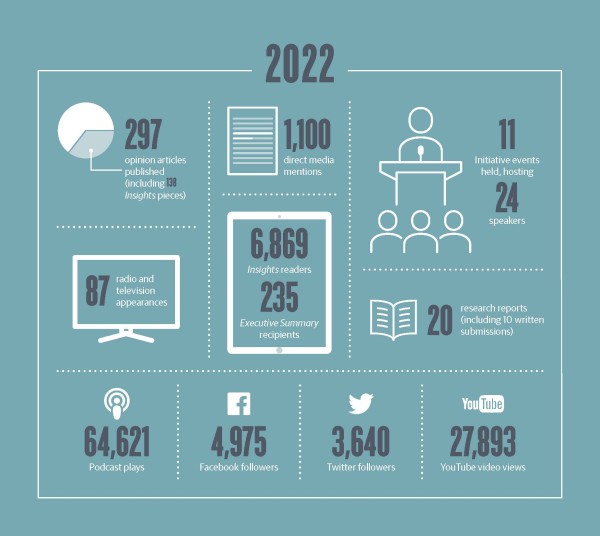 Download our Annual Report for more, in-depth information on what we achieved in 2022.