Like many businesses, Covid meant that The New Zealand Initiative had to continue to work differently. It also kept giving us extra policy challenges to address. We did so in many webinars, opinion pieces, and publications.

We also paid attention to other matters which are important for this country's long-term future. Having a high-quality education system, freeing up land for housing development, cutting carbon emissions efficiently, and maintaining sound public finances and monetary policy will be critical long after the pandemic has ended.
The Initiative's work has also changed the conversation in many policy areas. Our research has had a profound impact.

For example, we made the case for changing how we run our schools. We argued for a knowledge-rich curriculum, teacher-led learning, and structured literacy instruction. These ideas have become mainstream in 2021. The government is talking about a 'literacy reset' while the opposition is preparing for significant education reforms.
Similarly, the Initiative has been making a case for supply side housing reforms. Our research showed that New Zealand needs planning reform that strengthens property rights. We also explained that councils need better fiscal incentives for growth.

In 2021, Labour and National came together in a historic housing accord to simplify planning rules, giving landowners more control over their plots. Meanwhile, both National and ACT have signed up to the Initiative's plan on incentivisation for councils.

Another crucial area for the Initiative has been climate policy. A few years ago, ours was a lonely voice emphasising the importance of the Emissions Trading Scheme for cutting emissions. We warned against introducing other, often expensive, policies that are incompatible with our cap-and-trade emissions scheme.

This position, too, has gained traction in 2021. Organisations like BusinessNZ and the Taxpayers' Union have joined us in our concerns over policies that purport to reduce emissions but cannot under the ETS cap. Politically, too, this idea has gained traction. When economists like Professor Tim Hazledine and opposition politicians like National's Simeon Brown are making the same basic point on emissions policy, it shows how widely the idea has spread.
The examples above show what an influential think tank can achieve. It can shift debates in different directions. It can generate new ideas and concepts for the big questions of our time. And it can disseminate them widely so that they become commonplace and, finally, policy.

After nearly a decade, The New Zealand Initiative has established itself as New Zealand's leading think tank.

We are proud of what our team has achieved in 2021 – and indeed since we started in 2012. And we look forward to shaping the debates in the future.
Media highlights in 2021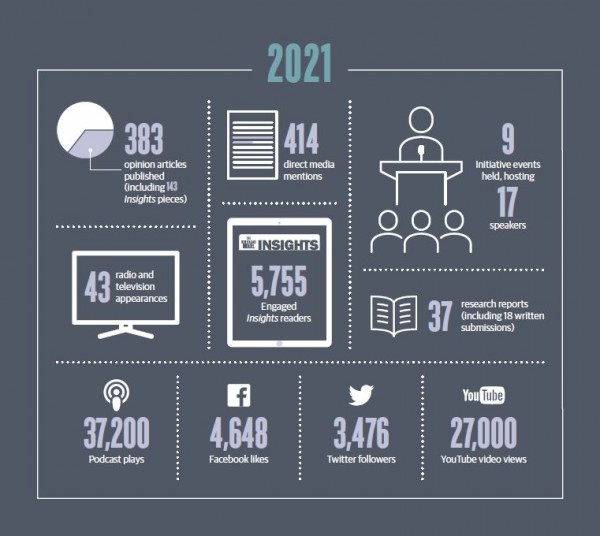 Download our Annual Report for more, in-depth information on what we achieved in 2021.