New Zealand is now below average for all but one international education TIMSS measure.

Released this week, the 2019 Trends in Mathematics and Science Study (TIMSS) reveals Kiwi 10-year-olds are now the only group of students performing above the international average in science.

Even so, Year 5 science performance is still trending downward since its peak in 2003. Today, New Zealand is only three points (503) above the average of 500. Year 5 mathematics scores have also declined since 2003. Today, New Zealand is 40th out of 58 countries.

This decline in mathematics is not restricted to secondary school students either. In Year 9 science, New Zealand is also below the international average (499), dropping 14 points since the last survey in 2015.

Worse yet, New Zealand Year 9 students achieved their lowest ever mathematics scores (482) since the first TIMSS study in 1995.

Combining this study with last year's dismal results from the OECD Programme for International Student Assessment (PISA) paints a worsening picture of New Zealand's education system.

In response, the Ministry of Education's chief science advisor Stuart McNaughton said in an RNZ article that the results "tell us that what we have been doing hasn't been working."

My colleague, Briar Lipson's latest report on education, suggests one major factor for the multi-decade decline is the Ministry's shift to embrace "child-centred" learning styles in the classroom.

But the proximate issue with the TIMSS study is that the Ministry does not collect its own data on student achievement. It should be gathering standardised national data on literacy, numeracy and content knowledge to compare with TIMSS, PISA and PIRLS (Progress in International Literacy Study).

Waiting three to five years for the next international education survey is too long an interval for steering New Zealand's education system back on track.

The TIMSS data shows that whatever is afflicting this country's education system, it has been ongoing for two decades, perhaps longer. Other international studies reveal similar data about the decline.

To fix our woeful education outcomes, every kid in every classroom must undergo standardised national testing. The stakes are too high not to.

These international surveys are great for objectively comparing how far New Zealand sits from being a world-leading. But if the Ministry relies on these reports for feedback on its educational approach, it will always be behind the curve.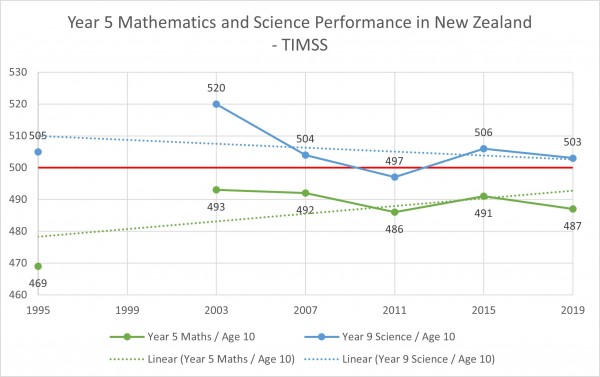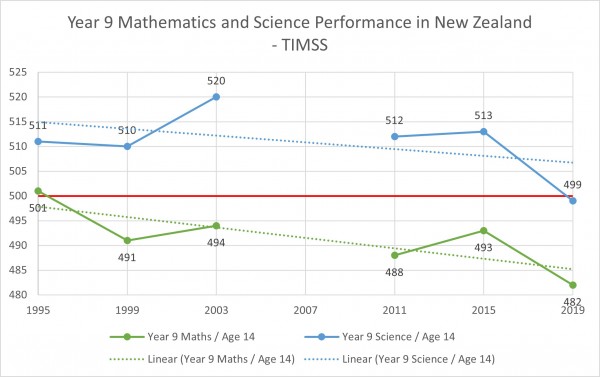 Source: International Association for the Evaluation of Educational Achievement