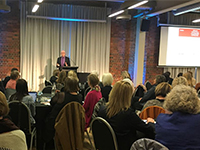 The ongoing fall in the literacy capability of New Zealand's school students and school leavers is a national scandal.
New Zealand needs a fresh start for literacy education.
To learn about what several decades of scientific research can contribute to a more effective approach, the New Zealand Initiative held a one-day literacy workshop in Wellington on May 12, 2022.
We were privileged to be able to bring together some of our country's leading experts in the field as well as Australian education policy practitioners.
This workshop connected these experts with policymakers and politicians. It will contribute to developing a pathway to urgently needed reform.
The speakers' presentations are below (in order of appearance), including both audio recordings of their talks and presentation slides.
Professor James Chapman ,Massey University
Dr Jennifer Buckingham, Multilit Pty Ltd / Centre for Independent Studies

Dr Christine Braid, Massey University
Dr Helen Walls, Cognition Education
Olwyn Johnston, Tawa School
Jan Johnstone, Southern Institute of Technology
Helena McAlister, New Zealand Graduate School of Education
TVNZ 1 Breakfast Interview - Professor James Chapman and and Dr Jennifer Buckingham