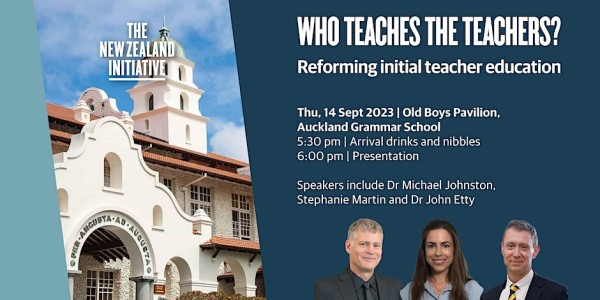 Who Teaches the Teachers?


In this new report, authors Dr Michael Johnston and Stephanie Martin look at New Zealand's university-dominated model of teacher education. They conclude that student teachers don't have enough practical classroom experience and that there is not enough rigorous assessment of practical teaching skills.

They also demonstrate the overabundance of theory in university teacher education programmes, which undermines the effectiveness of instruction.

The report highlights that better-prepared teachers will lead to improved student outcomes and that investing in teacher education is a key strategy for improving educational equity and social mobility.

Dr John Etty, Associate Principal of Auckland Grammar School, will join Michael and Stephanie to discuss ways schools can contribute to developing new and more effective ways of preparing teachers for the classroom.

Attendees will be invited to discuss ways to improve teacher education in New Zealand. We will document the best ideas from the meeting and follow up with a call to action.

About the authors:
Michael Johnston is a Senior Research Fellow at the New Zealand Initiative.
Stephanie Martin is an Adjunct Fellow at the New Zealand Initiative and a Primary School Teacher.

Event details:
Auckland Grammar, the Old Boys Pavilion
Date: Thursday 14 September
Time: 5:30 pm | Arrival (drinks and nibbles)
6:.00 pm - 7:00 pm | Presentation/discussion

Places are strictly limited. Please reserve a spot here.

We hope to see you at the event. If you have any further questions, please email events@nzinitiative.org.nz or call 04 499 0790.