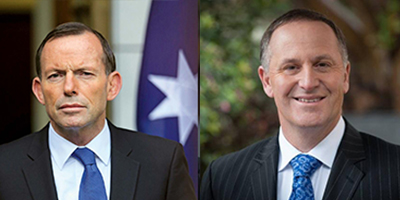 The New Zealand Initiative in association with Worldwide Support for Development (WSD) is pleased to invite you to meet Hon Tony Abbott, former Prime Minister of Australia.
Tony Abbott is an advisor to the British Board of Trade and Patron of WSD. We will be joined at the lunch by Sir John Key, who is also a Patron of WSD.
Mr Abbott will set out his views on a variety of topical trade and geo-political issues.
There will be an opportunity for discussion and questions with both Mr Abbott and Sir John.
About the Speaker
Tony Abbott was elected prime minister by the Australian people on September 7, 2013, and served for two years.
In his time as PM, the carbon tax and mining tax were repealed, free trade agreements were finalised with China, Japan and Korea; the people smuggling trade from Indonesia to Australia was halted and Australia became the second largest military contributor to the US-led campaign against Islamic State in Iraq.
In 2014, and again in 2015, he spent a week running the government from a remote indigenous community.
Tony Abbott served as the member for Warringah in the Australian parliament between 1994 and 2019. As the local MP, he was instrumental in the creation of the Sydney Harbour Federation Trust to preserve the natural and built heritage of his electorate.
Prior to entering parliament, he was a journalist with The Australian, a senior adviser to opposition leader John Hewson, and director of Australians for Constitutional Monarchy. He has degrees in economics and law from Sydney University and in politics and philosophy from Oxford which he attended as a Rhodes Scholar.
He is a member of the Australian War Memorial Council, a director of the Ramsay Centre for Western Civilisation, and an advisor to the UK Board of Trade. He is also patron for a number of charities including Soldier On and Worldwide Support for Development.
Since 1998, he has convened the Pollie Pedal annual bike ride which has raised nearly $7 million for causes such as indigenous health, medical research, and people with disability. He still does surf patrols with the Queenscliff Surf Life Saving Club and serves as a Deputy Captain with the Davidson Rural Fire Brigade.
In the 2020 Queen's Birthday Honours he was appointed Companion in the Order of Australia for his "eminent service to the people and Parliament of Australia, particularly as Prime Minister, and through significant contributions to trade, border control, and to the indigenous community".
Please contact Chelsy at chelsy.blair@nzinitiative.org.nz for further information. For more information about being a member please visit our Membership page.