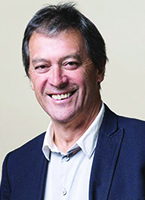 Sir Ian Taylor's recent NZ Herald columns have documented his experience returning to New Zealand and taking part in the government's trial of self-isolation.
In this members' Zoom meeting, Sir Ian will detail his experience with government bureaucracy. He will share his insights of what has worked, what needs to improve, and explain how partnering with the private sector could bring about a better outcomes for returning Kiwis.
About the speaker
Ian founded Animation Research Ltd (ARL) in 1990 on nothing more than a handshake with the Vice Chancellor of the University of Otago. They bought their first hard drive to make their first TV commercial in 1991. It cost $15,000 and had 1 GB of memory. The computer they used for the America's Cup in 1992 was the size of a small fridge and cost $500,000. Everything they did on that computer they can now do on a mobile phone.
Today, working from their base in Dunedin, ARL covers sports events all over the world. They also have a joint venture with Airways New Zealand, who market the Air Traffic Control Simulator they built for them. They had never built one before. They continue to service the F1 Race Car simulator they built for one of the world's leading F1 Race Teams. They had never built one before. They built an online Risk Assessment platform for one of the world's largest mining companies. They had never built one before. They built an online application to demonstrate the power of the IBM cloud-based analytics engine, which they presented to a conference of 22,000 delegates. They built it in three weeks. They had never built one of those before, either.
In 2019, Ian started Land of Voyagers which he says is the "most important work of his life." Land of Voyagers documents the Polynesian voyage to Aotearoa in a way that's never been done before, in order educate New Zealanders and to celebrate the incredible story of our Polynesian ancestors.
Ian holds an LLB from the University of Otago and was inducted into the New Zealand Hi-Tech Hall of Fame in 2009. In 2010, he was named North & South magazine's New Zealander of the Year. In the same year, he was awarded an Honorary Fellowship of the New Zealand Computer Society. He was named a Companion of the New Zealand Order of Merit in the 2012 New Year Honours, for services to television and business, and won the Creative sector of the World Class New Zealander Awards. In 2013, he was named Outstanding Maori Business Leader of the Year. Ian was awarded 2019 New Zealand Innovator of the Year. In 2021, Ian was made a Knight Companion of the New Zealand Order of Merit in the New Years honours, recognised for his services to broadcasting, business and the community.